ASHRAE Wall of Honor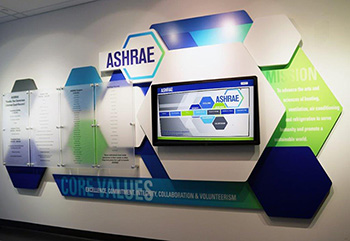 In November 2015, the ASHRAE Wall of Honor was unveiled at ASHRAE's headquarters in Atlanta. The Wall combines both a static display of major contributors as well as an interactive touchscreen that thanks our supporters, pays tribute to the Society's history, and recognizes our leaders.
Recently, the static panels were updated and a fourth panel was added to call attention to our Heritage Sponsors, those that have included ASHRAE in the planning of their estates.
Next time you are at headquarters, please take a moment to view the Wall of Honor. Experience the interactive Wall now at http://impact.ashrae.org.
---
Presidents Scholarship
Dear ASHRAE Colleague,
ASHRAE believes it is important to invest in aspiring HVAC&R engineering students today who will become ASHRAE members and leaders in our industry tomorrow, a strategy which makes our Society strong and full of promise for years to come.
Our mission to support students isn't possible without the help of our members. This is why the ASHRAE Foundation established the Presidents Scholarship Fund, which provides assistance to undergraduate engineering students. This fund helps students and honors our ASHRAE presidential members, every one of whom has made significant contributions of time, talent and resources to help ASHRAE reach new heights.
Gifts of any size are appreciated and can count toward the RP Campaign goal. This special initiative gives you an opportunity to show your commitment to the future of ASHRAE with a lasting acknowledgement of your support: With gifts of $1,000 or more, you are eligible to have your name carved on a paver on the sustainability garden patio at ASHRAE headquarters. There are a limited number of pavers, and they will be available on a first-come, first-served basis.
As we prepare for the giving season, we hope that all members will consider making a special gift to the Presidents Scholarship Drive. Your gift can help us reach our goal of $250,000, which will make this the largest and most prestigious scholarship offered by ASHRAE! With your generosity and commitment to our industry's future we can make this scholarship a reality. To make a contribution today, click here! If you would like to make a gift in honor or in memory of a Presidential Member, you will have an opportunity to do so.
Sincerely,
William A. Harrison
ASHRAE Foundation Chair
ASHRAE Presidential Member 2008-2009


  

Susanna Hanson
Presidents Scholarship Subcommittee Chair
Foundation Trustee