About the ASHRAE Foundation
The American Society of Heating, Refrigerating & Air-Conditioning Engineers (ASHRAE) has more than a century of experience advancing the arts and sciences of HVAC&R and related human factors to serve the needs of its members and population at large.
In 1994, a dedicated group of long-time ASHRAE members created the ASHRAE Foundation to support and advance the needs of the HVAC&R industry. The ASHRAE Foundation is an endowed trust that provides funding for professional development and research programs, supplies qualified engineering students with much needed scholarship assistance, and ensures that ASHRAE will continue to have sufficient resources to sustain and expand the Society's vital work.
The creation of the ASHRAE Foundation was in response to a valid need for increased funding for ASHRAE programs and projects. A solid proponent of education, the Foundation recognizes and accepts the challenge to provide the financial support necessary to offer tailored educational programming to ensure HVAC&R professionals are prepared today for tomorrow's challenges.
"It takes a noble man to plant a seed for a tree that will some day give shade to people he may never meet."

-David Elton Trueblood
---
Creating a Legacy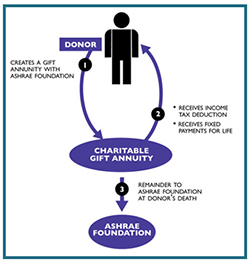 Would you like to make a gift of cash or securities to the ASHRAE Foundation while retaining needed income for yourself and your loved ones? The ASHRAE Foundation offers gift-planning services to all ASHRAE members and can help you create a gift annuity contract to support the work of ASHRAE.
Increase Your Income and Make a Gift to ASHRAE
Gift annuities are rewarding and simple to arrange. You make an irrevocable contribution of cash or securities and may claim a one-time charitable deduction for part of your gift. In exchange, you will receive quarterly payments for life, guaranteed. One or two people-you and your spouse, for example-may be named as income recipients. Payments are fixed and the amount of your payment depends on the ages of the annuitants. When you die, the balance of your gift principal is distributed to support the work of the ASHRAE Foundation.
Use Appreciated Property to Increase your Benefits
Gift annuities are a great way to give appreciated securities because part or all of the capital gains tax may be excused, and the remainder distributed over a period determined by life expectancy. You may be able to generate a larger income stream from low-yielding assets, and you will create a wonderful legacy for the ASHRAE Foundation.
What Will Your Payments Be?
We can provide a personalized example of how a gift annuity could work in your particular situation. Contact Margaret Smith at ASHRAE Foundation, 678-539-1201.

TAXATION:
Portion of the annuity payment initially is tax-free
Portion may be taxed as capital gain if funded with appreciated property
Balance of the payment is taxed as ordinary income
BENEFITS:
Fixed annual income for life
Tax deduction based on the value of the assets and annuity rate
Reduced capital gains tax