ASHRAE Wall of Honor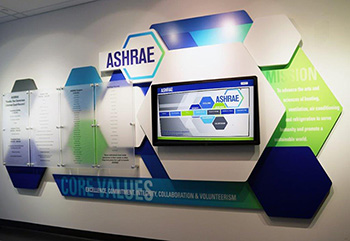 In November 2015, the ASHRAE Wall of Honor was unveiled at ASHRAE's headquarters in Atlanta. The Wall combines both a static display of major contributors as well as an interactive touchscreen that thanks our supporters, pays tribute to the Society's history, and recognizes our leaders.
Recently, the static panels were updated and a fourth panel was added to call attention to our Heritage Sponsors, those that have included ASHRAE in the planning of their estates.
Next time you are at headquarters, please take a moment to view the Wall of Honor. Experience the interactive Wall now at http://impact.ashrae.org.
---
Presidents Scholarship
Dear ASHRAE Colleague,
Have you ever thought about the level of dedication required and sacrifices made by ASHRAE members who work through the ranks to become ASHRAE President?
Simply stated, it is no small feat. Each and every ASHRAE President has made significant contributions of time, talent and resources and all have left a unique permanent mark on the direction, history and success of ASHRAE. In recognition of the legacy set forth by all of our exceptional Presidential Members, the ASHRAE Foundation Trustees, the ASHRAE Scholarship Trustees and the ASHRAE Board of Directors recently approved the creation of the ASHRAE Presidents Scholarship.

This scholarship was created to further the legacy of the Society's Presidential Members. It will significantly impact the lives of undergraduate engineering students whose primary academic interests align with the mission of ASHRAE: advancing HVAC&R to serve humanity and promote a sustainable world. Our vision is that these recipients will become ASHRAE's future leaders and potentially become Presidential Members.
With a minimum $200,000 endowment, the ASHRAE Presidents Scholarship will have a lasting impact on the industry. Our goal is to award $10,000 over two years to each recipient, ranking this among the largest and most prestigious scholarships offered by ASHRAE!  
With your generosity and commitment to our industry's future we can make this scholarship a reality. Please consider encouraging your friends to contribute as well to help us quickly reach our goal.

I sincerely hope you will join us as we honor the legacy of our Presidential Members by helping us to establish this scholarship. If you would like to make a contribution, you can do so by going online at www.ashrae.org/foundation-online-giving.
Sincerely,
T. Randall Jones
ASHRAE Development Chair

  

Jeff Littleton
ASHRAE Executive Vice President