Support the Foundation and the Future of the Industry!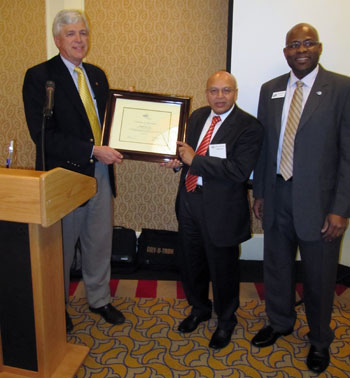 Boggi Setty was presented with the certificate of appreciation from the ASHRAE Foundation at the Clinton Phillips Service Award.
There is no better way to ensure the future of ASHRAE and the HVAC&R Industry than investing in tomorrow's engineers. Longtime ASHRAE member Boggarm S. Setty, P.E. recently decided to endow a perpetual annual scholarship with ASHRAE Foundation. The newly formed Boggarm S. Setty Scholarship will be given to a deserving student in ASHRAE's National Capital Region. Setty said, "This scholarship is a way for me to give back to an organization that has given so much to me over the years, while also helping build and sustain ASHRAE's future membership. One person can make a difference and I encourage others to do the same!"

Approximately $2 Million of ASHRAE Foundation's endowment is dedicated solely to scholarships. This means we can provide more than $100,000 in ASHRAE Scholarships annually to outstanding future engineers. Your gift of a scholarship endowment could provide lasting support for the future of ASHRAE throughout your lifetime and beyond!

About the ASHRAE Scholarship Program

The ASHRAE Scholarship Program is designed to encourage and assist HVAC&R education through granting scholarships at the undergraduate and graduate levels. The program also serves the public interest by aiding the education of men and women to become qualified HVAC&R engineers. The Scholarship Program provides individuals, foundations, trusts and corporations as an opportunity to assist high-achieving students in engineering education through contributions, grants, bequests and other legal means. The mission of the ASHRAE Scholarship Program is to motivate students and prospective students worldwide to pursue an engineering or technology career in the HVAC&R field by offering scholarships to provide financial support for their education and training. These scholarships will encourage new members who embrace the ASHRAE mission.